Latest Monthly Message to the World from
Our Lady the Queen of Peace
(Latest Monthly Message to the World from Medjugorje)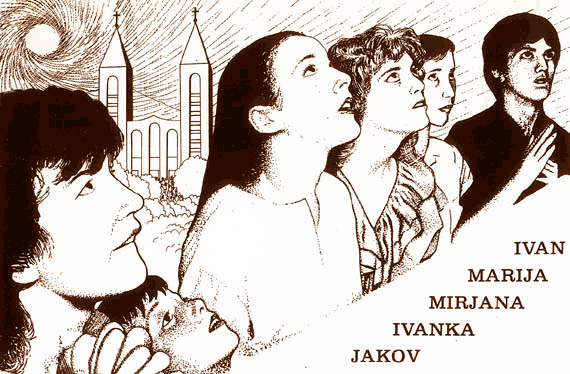 Visionaries of Medjugorje:
Vicka, Jakov, Ivanka, Mirjana, Marija and Ivan
( Illustration by Rafael Brom )

Our Lady The Queen of Peace in Medjugorje - February 25, 2018 - Her Monthly Message To The World:
"Dear children! In this time of grace I am calling all of you to open yourselves and to live the commandments which God has given you, that they may lead you through the Sacraments on the way of conversion. The world and worldly temptations are testing you, but you, little children, look at God's creatures which He has given to you in beauty and humility and, little children, love God above everything and He will lead you on the way of salvation. Thank you for having responded to my call."
Our Lady's January 2nd, 2018 message as given to Mirjana.
"Dear children, when love is beginning to disappear on earth, when the way of salvation is not being found, I, the mother, am coming to help you to come to know true faith – living and profound – so as to help you to truly love. As a mother, I am longing for your mutual love, goodness, and purity. My desire is that you be just and that you love each other. My children, be joyful in your soul, be pure, be children. My Son used to say that he loves to be among pure hearts, because pure hearts are always young and joyful. My Son said to you to forgive and to love each other. I know that this is not always easy. Suffering makes you grow in spirit. For you to spiritually grow all the more, you must sincerely and truly forgive and love. Many of my children on earth do not know my Son, they do not love Him; but you who do love my Son, you who carry Him in your heart, pray, pray and in praying feel my Son beside you. May your soul breathe in His spirit. I am among you and am speaking about little and great things. I will not grow tired speaking to you about my Son – the true love. Therefore, my children, open your hearts to me. Permit me to lead you as a mother. Be apostles of the love of my Son and of me. As a mother I implore you not to forget those whom my Son has called to lead you. Carry them in your heart and pray for them. Thank you."
Catholic Church response to the Medjugorje apparitions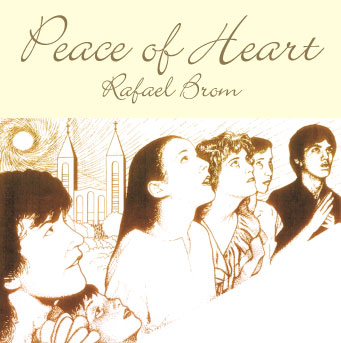 "Peace of Heart"
Record Album on the Queen of Peace by Rafael Brom
Released on Cosmotone Records / Cosmotone Music (ASCAP)

Great Book:
Fatima The Great Sign

Padre Pio Re-Visited
New DVD and Video
Video: Medjugorje - the Miracles and the Message
Videos on Padre Pio, Sr. Faustina and Medjugorje
Books and Videos Indexed by Subject
Persecution of Christians Around the World
The Passion of Christ - DVD or VHS Video
Bestselling Catholic Videos in English and Spanish Languages
From San Giovanni to Heaven - New Video on Canonization of Padre Pio
The Beatification of Padre Pio (NewVideo)
The Life of Sister Faustina - The Apostle of Divine Mercy
Spanish Edition - La Historia De Sor Faustina
Sister Faustina - The Promise of Mercy
The Beatification of Sister Faustina - Join the Celebration
A Celebration of Padre Pio - Pray, Hope, and Don't Worry
Spanish Edition - Homenaje Al Padre Pio
Padre Pio - At The Gates of Heaven
Padre Pio's San Giovanni - "I Can Refuse No One"
Medjugorje - The Miracles and The Message
New Video on
Canonization of Padre Pio
Photos from movie "The Passion of the Christ" directed by Mel Gibson
Movie Book: "The Passion"
A very impressive book!
Actual photos from Mel Gibson's film "The Passion of the Christ"
Includes corresponding Scriptural passages, taken from the Douay-Rheims Bible.
Go and spend time with Jesus.
Go see the movie "The Passion of the Christ"!
Pro-Life Videos
Pro-Life Books
Dr. Bernard Nathanson
Social Issues Documentary Videos
Creation vs Evolution
The Creature from Jekyll Island
Devil - Satan
Freemasonry
Gods of the New Age
Global Tyranny
One World Government
Prophecy
Rock Music, MTV, Hollywood and Satan
Shocking Videos
The UN's Crusade Against God and Family
Videos and Books on Sr. Faustina
plus Diary of Sr. faustina
Videos and Books on Padre Pio
Videos and Books on Medjugorje
and Our Lady Queen of Peace
THE BOOK OF DESTINY By Fr. H.B. Kramer
CATHOLIC PROPHECY THE COMING CHASTISEMENT By Yves Dupont
FORTY DREAMS OF ST. JOHN BOSCO By St. John Bosco
HISTORY OF ANTICHRIST By Fr. P. Huchede
LIFE OF ANNE CATHERINE EMMERICH By V. Rev. C. E. Schmoeger, C.SS.R.
THE PROPHECIES OF ST. MALACHY
PROPHECY FOR TODAY By Edward Connor (compiler)
THE PROPHETS AND OUR TIMES By Fr. R. Gerald Culleton
THE REIGN OF ANTICHRIST By Fr. R. Gerald Culleton
Divine Mercy and Sr. Faustina (Videos and Books)
Padre Pio (Videos)
Medjugorje - The Queen of Peace (Videos, Books and Audio Tapes)
Prophecy of The Third Secret of Fatima
The Kingdom of the Bride

BIBLES
Text of The Third Secret of Fatima - Complete Report
Books and Videos on Padre Pio
Videos and Books on Sr. Faustina and Divine Mercy plus Diary of Sr. Faustina
CATHOLIC BIBLES (Family Bibles, Spanish Bibles, Church, School and Study Bible Edidions) FBP
Bishop Fulton Sheen - Audio Tapes, Videos and Books
THE DOUAY-RHEIMS BIBLE - Now in Larger Print!
Why Should You Read only the Douay-Rheims Catholic Translation of the Bible?
1 Timothy 2:6. Who gave himself a redemption for all, a testimony in due times.

New Video on Canonization of Padre Pio
Church Supplies
Canonization of Juan Diego of Guadalupe, Mexico
Videos on Padre Pio - English and Spanish
Videos on Sr. Faustina of Divine Mercy
I Am Your Jesus of Mercy - All 6 Volumes by the Riehle Foundation
True Church and Bible / Catholicism
Bibles by Different Roman Catholic Publishers
Why Should You Read only the Douay-Rheims Catholic Translation of the Bible?
Bishop Fulton Sheen - Catholic Tapes Cassettes
Videos of Pious Publications
Diary of Sr. Faustina
The Third Secret of Fatima - Complete Text and Report / Pope
Holy Pictures / Gifts / Church Supply / Christmas
Vatican Connection / Catechism / Advent
MP3 - Free Music Downloads
Marianland - A Catholic Theme Park
Mother Teresa
Links / Religion / Prayer

Catholic Christian Music and Songs
Home Page / Statues / Crucifixes / Catholic Resources / Catholic Videos / Catholic Books / Catholic Audio Tapes / Christian Music / Catholic News / Angels / Anti-Semitism / Animated 1 / Animated 2 / Animated for Children - The New Testament / Animated - The Old Testament / Apparitions of Blessed Virgin Mary - Mother of God/ Apologetics and Jesus Christ / Art Gallery / Audio Tapes / The Beatification of Padre Pio / Hilaire Belloc / Bible / Bibles / Books on Bible / Bishop Fulton Sheen / Books / Books on Divine Mercy / A Catholic Theme Park / Children and Youth - Animated / Church Documents / Church History and Protestantism / Creation vs Evolution / The Creature from Jekyll Island / Devil - Satan / Catholic Family Resources / Divine Mercy / Diary of Sister Faustina / Dr. Bernard Nathanson and Abortion / Errors - Problems of Modern Times / Eucharist and the Mass - Sacraments / Family and Marriage / Fr. Aloysius Ellacuria / Freemasonry / Garabandal / Gifts / Gods of the New Age / Global Tyranny / Health / Hell, Heaven and Purgatory / Home Schooling / John Paul II Collection / Joan of Arc / Journeys of the Soul / Latest Message / Marianland / Marian / Marian Videos / Mariology / Charismatic - Holy Spirit / Marx and Satan / Medjugorje Miracles and the Message - Queen of Peace - Virgin Mary / Miracles in Catholic Church / Money System / Mother Teresa / Music / MP3 - Free Music Downloads / Yoga / One World Government / Padre Pio (Videos) / Padre Pio (Books) / Pious Publications / The Priesthood / Pro-Life Videos / Pro-Life Books / Antichrist - Prophecy - Prophecies and Anti-Christ / Prophecy of The Third Secret of Fatima / Rafael's Art Gallery / Prof. Libor Brom / Religious Education-Adult / Religious Education-Grade School / Religious Education - High School / Rock Music, MTV, Hollywood and Satan / ROSARY / Saints Part 1 / Saints Part 2 / Saints Part 3 / St. Patrick: Apostle of Ireland / Scott Hahn, Kimberly Hahn and Bishop Sheen / Shocking Videos / Spanish Videos / Spiritual Life / Sr. Faustina / Stigmata and Stigmatists / Theology / True Church and Bible / The UN's Crusade Against God and Family / Vatican II / Videos - Main Section / J. Paddy Nolan / Wayne Weible / Latest news / Sin and Repentance / Fr. Faber / Marian Videos as Seen on EWTN / Mother Teresa / Text of The Third Secret of Fatima / Catholic Books and Audio Tapes (ALBA)